If you cannot read this email, please click here

Message from the CEO

Happy 2016 to you all! Here's to a healthy and happy New Year and a prosperous new beginning. I want to take this opportunity to reflect on the past and set decisive new goals for the future.

Our efforts started from the ground up with inspiring the young talent of our future an integral part of our work. We facilitated many opportunities for our young people to flourish from our Kids Coding Summer Camp to international competitions in animation and gaming...
Recent Cyberport Incubatee graduate scores big wins at the 2015 HR Vendors of the Year Awards

Recent graduate of Cyberport Incubation Programme Total Loyalty Company Limited, a HR company stressing on the importance of employees' "work-life balance" and "staff engagement", has been named "Best Compensation and Benefits Consultant" at the 2015 HR Vendors of the Year Awards...
Berlin startup Seerene chooses Cyberport as first home in Asia

Seerene, a spin-off from the Berlin-based technology university college Hasso Plattner Institute, has chosen Cyberport as the location of its first office in Hong Kong and its first ever in Asia.

"We selected Cyberport as our regional base because Cyberport is home to many leading tech companies and can provide us with easy access to business partners, funding and high quality graduates," says Oliver Muhr...
Cyberport brings first Xero cloud accounting roadshow to Hong Kong

The first ever Xero Roadshow will be at Cyberport on Thursday 25 February to showcase the latest cloud accounting tools that can help evolve business, fine tune ideas, streamline business processes and take companies to the next level. Accountants and bookkeepers will learn how to grow the business and inspire new ways of working with the latest Xero products and integrated solutions...
Asian Financial Forum hosts timely discussion on
optimising use of big data

This year's two-day Asian Financial Forum featured an important Cyberport co-organised panel discussion on how the Fintech sector can optimise the use of big data to provide better financing and payment tools to e-commerce...

Cyzone names Cyberport 2015 Best Entrepreneurship Park

Cyberport was named in early January "2015 Best Entrepreneurship Park" at Cyzone's annual 100 Future Leaders Summit, part of its annual conference in Beijing.

Cyzone is a publication and leading platform in Mainland China that provides networks and services for Mainland investors...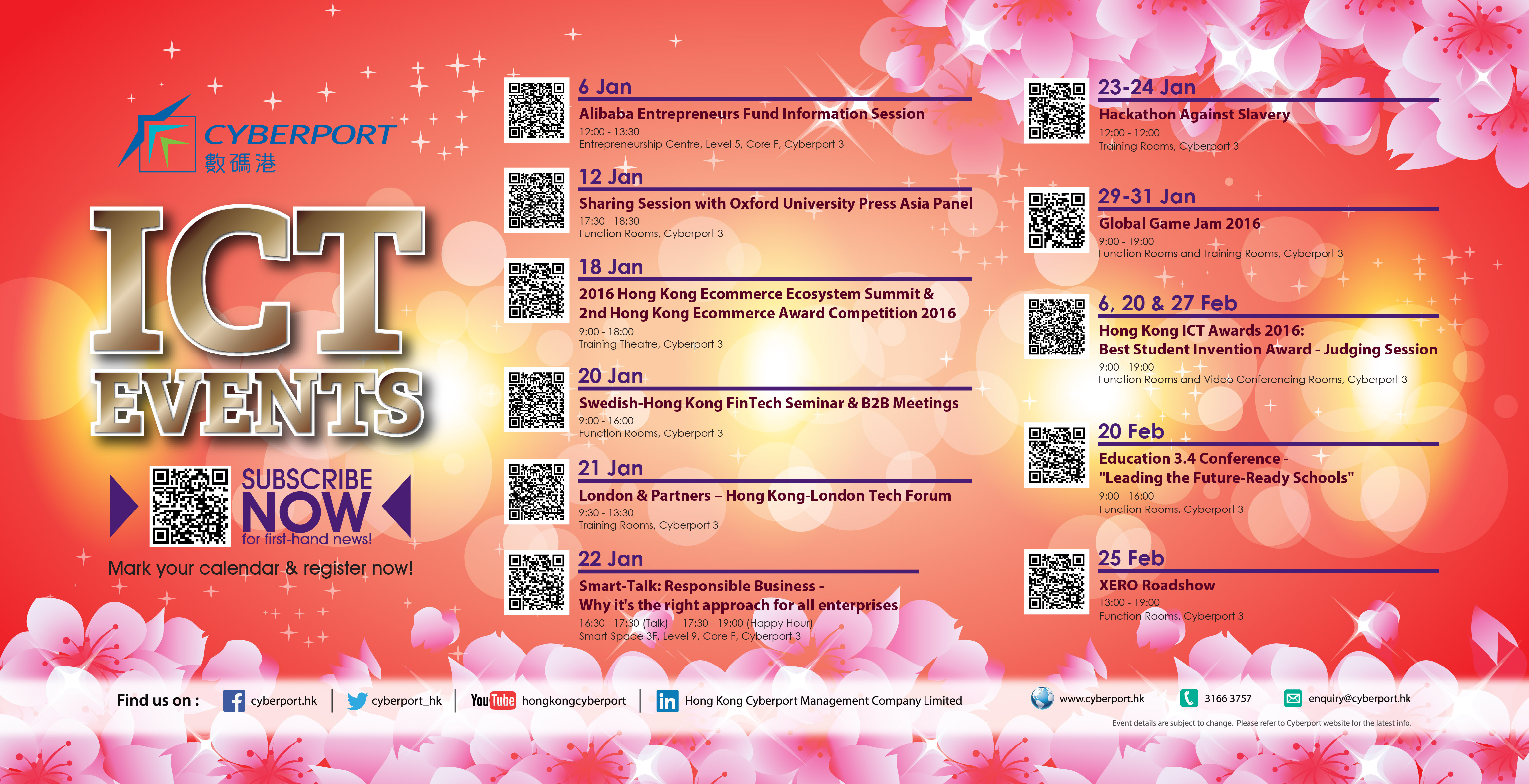 If you do not wish to receive our monthly eNewsletter "CyberLink" in the future,
please reply to this message or click here to unsubscribe.

如閣下不想再收到數碼港的月訊「CyberLink」,請回覆此電郵或按這裡取消訂閱。

Hong Kong Cyberport Management Company Ltd
Units 1102-1104, Level 11, Cyberport 2, 100 Cyberport Road, Hong Kong
Tel: (852) 3166 3800 Fax: (852) 3166 3118 Email: enquiry@cyberport.hk

香港數碼港管理有限公司
香港數碼港道100號數碼港二座11樓1102-1104室
電話: (852) 3166 3800 傳真: (852) 3166 3118 電郵: enquiry@cyberport.hk