If you cannot read this email, please click here

Cyberport rebrands with new strategic goals

Cyberport has unveiled a new brand to reinforce the life, energy and diverse range of vibrant ideas central to the core of the digital community.

The new brighter coloured logo integrates much of Cyberport's commitment in connecting and collaborating with the community, enthusiasm in serving the community and in cultivating innovation. In addition, the transition to all lower case letters in the new logo signifies...
Cyberport Career Fair 2016 welcomes digital talents to join!

Growing digital talent is a continuous effort that can support the tech industry continue to flourish in years to come. To support our next generation with more opportunities, Cyberport will stage the "Cyberport Career Fair 2016" on 12 March to connect Hong Kong talents with over 60 tech companies and more than 400 exciting job opportunities.

The Career Fair acts as an effective platform to bring...
Incubatee Gaifong wins award for sustainable low carbon efforts

Cyberport Incubatee Gaifong's mobile applications recently earned the Roadshow's EcoStar Award, an annual award that recognises impactful companies who have inspired others towards taking a more sustainable and low carbon path way of life.

The company has developed its Gaifong mobile application to allow registered users to rent consumer goods directly from people nearby rather than buying from a store...
Smart-Space company Chillmob's cloud based software transforms app market

Cyberport Smart-Space company Chillmob, the city's first online app builder, is transforming the apps landscape through its mission of helping businesses develop their own...

Cyberport's flagship schemes growing in size and diversity

Latest results from Cyberport's flagship schemes in December 2015 show the digital hub is growing in size and expanding in diversity.

The Cyberport Creative Micro Fund (CCMF) Hong Kong Programme admitted 17 projects while the Cyberport Incubation Programme...

Cyberport named Most Influential Business in China's IT Industry

Cyberport has been named "The Most Influential Business in China's IT Industry 2015" by the China Market Intelligence Centre Net, a renowned portal offering an industry and information technology service platform in China...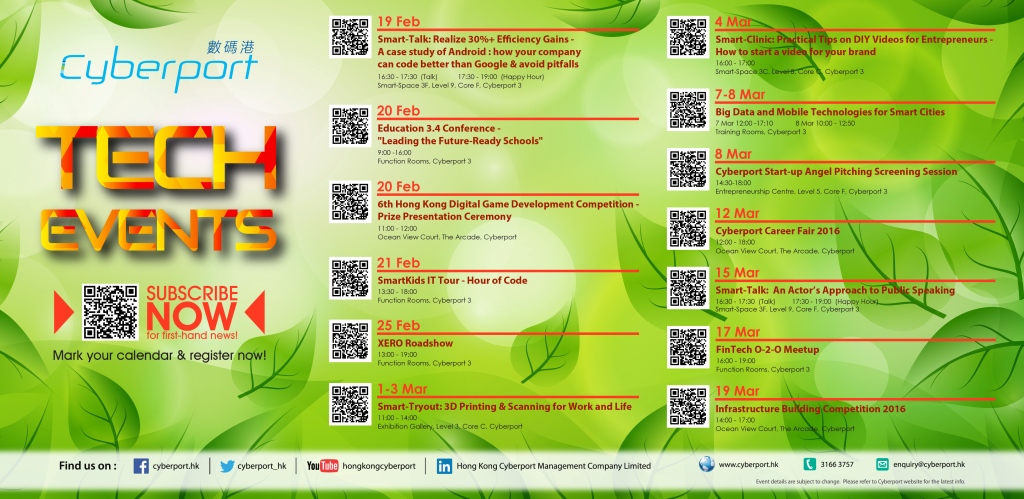 If you do not wish to receive our monthly eNewsletter "CyberLink" in the future,
please reply to this message or click here to unsubscribe.

如閣下不想再收到數碼港的月訊「CyberLink」,請回覆此電郵或按這裡取消訂閱。

Hong Kong Cyberport Management Company Ltd
Units 1102-1104, Level 11, Cyberport 2, 100 Cyberport Road, Hong Kong
Tel: (852) 3166 3800 Fax: (852) 3166 3118 Email: enquiry@cyberport.hk

香港數碼港管理有限公司
香港數碼港道100號數碼港二座11樓1102-1104室
電話: (852) 3166 3800 傳真: (852) 3166 3118 電郵: enquiry@cyberport.hk