If you cannot read this email, please click here

Cyberport community scores big on business publications' "hot" lists

Members of the Cyberport community are, in growing numbers, being recognized by local and international publications for their achievements in the industry, a strong indication that the body of talent is fast developing in the city.

US business magazine Forbes recently named Cyberport entrepreneurs...
Cyberport tenant IngDan opens Experience Center in Hong Kong

Cyberport tenant INGDAN.com, owned by Hong Kong-listed Cogobuy Group, a leading e-commerce platform serving the electronics manufacturing industry in Mainland China, has launched its IngDan Experience Center in Hong Kong on 19 March. Following the "sharing economy" concept of development, IngDan Hong Kong Experience Center connects entrepreneurs worldwide with an extensive supply chain and an innovative ecosystem in Mainland China.
Internet Economy Summit at heart of this year's International IT Fest

The inaugural Internet Economy Summit (IES) will be the signature event at this year's International IT Fest 2016 in just two weeks' time. The IES on 13 April at the Convention Hall of Hong Kong Convention and Exhibition Centre promises to...

Cyberport boosts start-up support with increased co-working space

Cyberport is shoring up its support of start-ups, expanding its Smart-Space provision by over 50 percent with Fintech focus.

Cyberport's Smart-Space is one of the largest innovation and technology co-working spaces in Hong Kong with over 75,000 square feet...

Big Dipper Studio releases guidance and discipline app for students

Cyberport tenant Big Dipper Studio recently released the Rainbow Rangers, an app that uses games to guide, discipline and motivate students.

Teachers can use the app to award gems to students who have successfully completed specific school tasks from attending a field trip to helping others...
Smart-Space company 3Faktur first to exhibit at Smart-Tryout Scheme

Cyberport Smart-Space company 3Faktur became one of the first to use the digital hub's Smart Tryout scheme to showcase its 3D printing and scanning solutions in early March.

"Cyberport is committed to facilitating the digital innovators...

Cyberport to host international mobile app hackathon in April

Cyberport will host the Cyberport mYouth Mobile App Code Jam Competition 2016 this April, an International IT Fest event promising to galvanize young talents to work on coding. The session is expected to generate the creation of at least five mobile apps.

Two winners from the overnight...

freeD Group claims champion title in Cyberport basketball tournament

Cyberport held its annual basketball tournament final in March with 12 teams vying for the top title.

Now running in its fifth year, freeD Group Limited claimed the overall champion title. FMO 2 won first runner up and the Avengers was...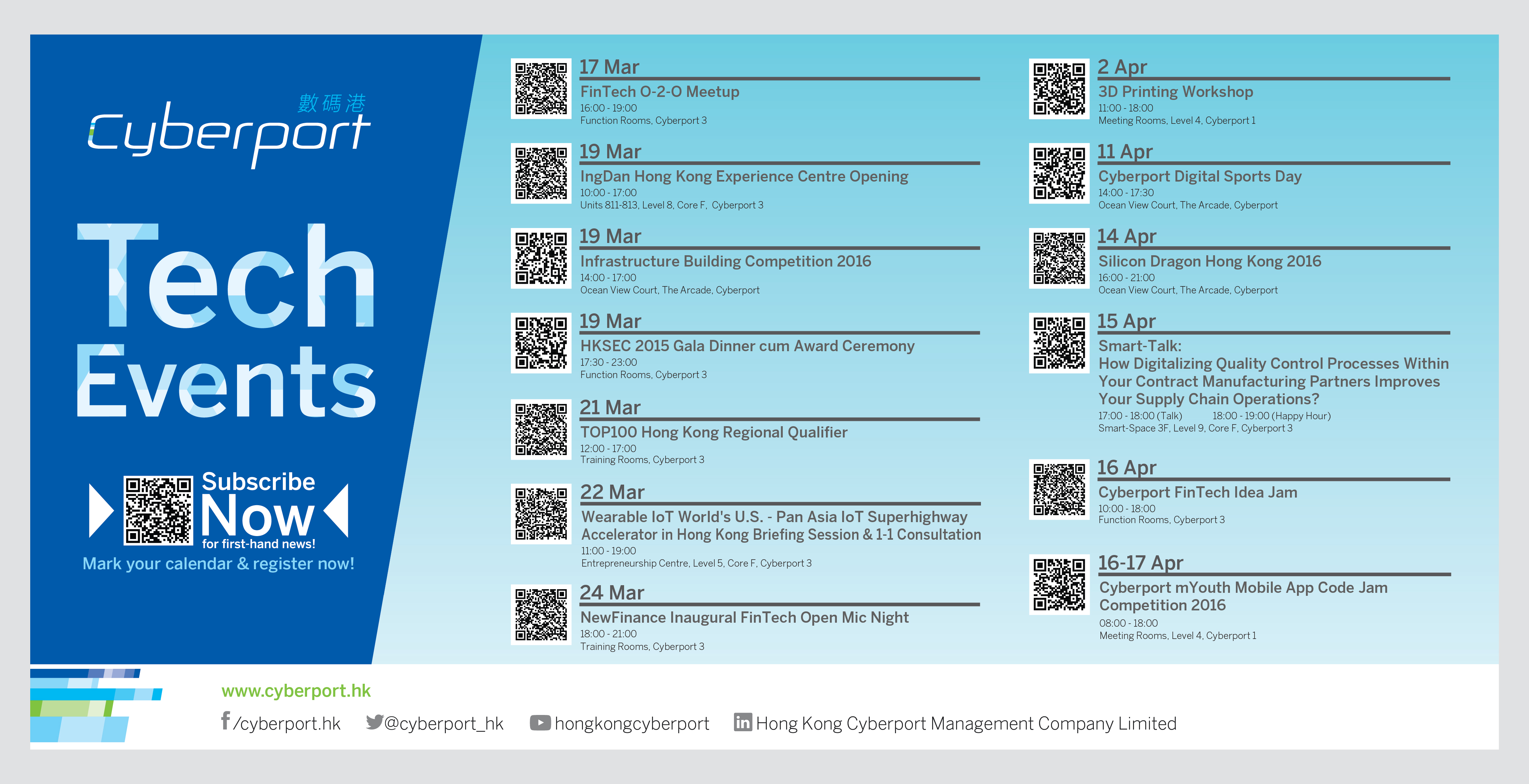 If you do not wish to receive our monthly eNewsletter "CyberLink" in the future,
please reply to this message or click here to unsubscribe.

如閣下不想再收到數碼港的月訊「CyberLink」,請回覆此電郵或按這裡取消訂閱。

Hong Kong Cyberport Management Company Ltd
Units 1102-1104, Level 11, Cyberport 2, 100 Cyberport Road, Hong Kong
Tel: (852) 3166 3800 Fax: (852) 3166 3118 Email: enquiry@cyberport.hk

香港數碼港管理有限公司
香港數碼港道100號數碼港二座11樓1102-1104室
電話: (852) 3166 3800 傳真: (852) 3166 3118 電郵: enquiry@cyberport.hk