If you cannot read this email, please click here

Cyberport community wins big at ICT Awards 2016

Members of the Cyberport community scored phenomenal wins at this year's Hong Kong ICT Awards with 16 companies taking home a total of 23 awards in all eight categories.

Now in its tenth year, the Award added the "Best FinTech Award" category this year reflecting the rapid growth of the financial technology (FinTech) industry and to encourage the development of FinTech innovation...
Smart-Space company Neat will launch revolutionary mobile current account

Cyberport Smart-Space company Neat Limited will launch its innovative budgeting app and current account in Hong Kong in the second quarter of this year. The first of its kind solution in Hong Kong offers a ground-breaking banking experience for university students and young professionals.

By using secure finger print scans and facial recognition...
Cyberport supported inaugural Internet Economy Summit with huge success at IT Fest

Cyberport put together the debut Internet Economy Summit (IES) 2016 in mid-April at the Hong Kong Convention and Exhibition Centre, a premium event organised by...

Fillony launches smart lifestyle products

Smart-Space company Fillony launched two exciting new smart products onto the market.

KLIKR, a small and simple product to be attached on to any infrared controlled device, will allow users instant remote control access over their electronic...


Incubatee alumni Sensbeat launches new app for music creation

Cyberport incubatee alumni Sensbeat has launched its first public version of omv, its latest mobile app, on the iOS platform, which allows the creation of users' own music videos complete with music, lyrics and the video clips to be shared with friends on the...
Cyberport welcomes students to first ever Digital Sports Day

Cyberport saw a great turnout for its first ever Digital Sports Day in April, a pioneering event that changes the traditional sports day into an e-sports game format.

Over 380 primary and secondary school students and their parents competed...

Government pledges to double Wi-Fi.HK hotspots over the next 3 years

Senior government officials including Dr David Chung, the Under Secretary for Innovation and Technology, and industry partners, in late March, pledged to build up Wi-Fi.HK facilities together with the...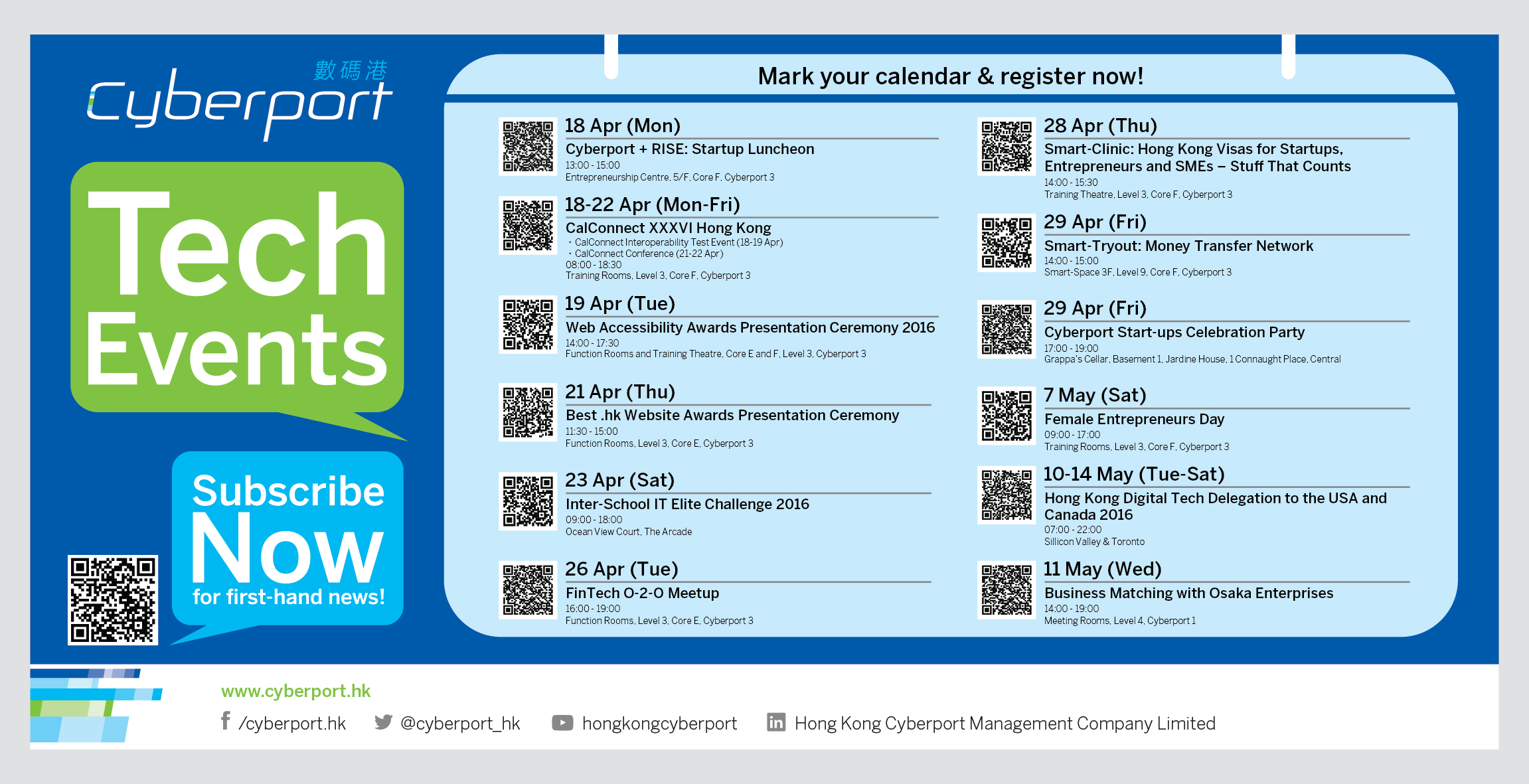 If you do not wish to receive our monthly eNewsletter "CyberLink" in the future,
please reply to this message or click here to unsubscribe.

如閣下不想再收到數碼港的月訊「CyberLink」,請回覆此電郵或按這裡取消訂閱。

Hong Kong Cyberport Management Company Ltd
Units 1102-1104, Level 11, Cyberport 2, 100 Cyberport Road, Hong Kong
Tel: (852) 3166 3800 Fax: (852) 3166 3118 Email: enquiry@cyberport.hk

香港數碼港管理有限公司
香港數碼港道100號數碼港二座11樓1102-1104室
電話: (852) 3166 3800 傳真: (852) 3166 3118 電郵: enquiry@cyberport.hk