If you cannot read this email, please click here

Hong Kong start-ups visited North America

Sixteen delegates from eleven companies in Hong Kong and China had an action packed schedule to North America in mid-May, part of a delegation visit to Silicon Valley and Canada.

Five Cyberport incubatees were among those on the trip who presented their businesses to investors at a networking and pitching event co-hosted by Plug and Play. The group visited leading accelerators and...
CCMF alumni LULIO developing a total solution to assess mental wellness

Dr. Jamie Chiu, a clinical psychologist specialising in working with teens and Mark Altosaar, previously a product manager for one of the world's largest education technology companies, are the founders of LULIO, a company based in Cyberport, Hong Kong and dedicated to helping teenagers. At LULIO, their belief is that every young person deserves to like themselves and feel hopeful for a bright future. Teenage years can be difficult...
Incubatee Playto launches 1st family-friendly game to improve kids' focus

Cyberport Incubatee Playto has developed GlowMaster, the world's first family-friendly video game that is promising to teach kids to master the art of concentration. In essence, a video game that is good for you.

The collaborative work of psychologists, teachers, scientists, leading toys and game developers as well as parents and their children, GlowMaster uses a safe and...
Tenant Mind Fund's scheduling app spins off into own company

Cyberport tenant Mind Fund's studio arm Mind Fund Studio has successfully created Sorted, a hugely popular task management app that has now been spun off into a company in its own right.

The Sorted app uses patented gestures to make the scheduling experience efficient and seamless, helping to optimise time throughout the day. Features include list and day planners, unique gestures, and checklists and...
Cyberport hosts pitching contest for a place at RISE Conference

Cyberport in late May hosted BREAKTHROUGH Preliminary, the semi-final pitching competition, that decided which start-ups to participate at the RISE Conference.

Judges including Tony Wong, co-founder of Shopline, Kevin Mak, CEO of Ironfly...

Cyberport co-organised IT challenge award prize ceremony for students

Over 800 primary and secondary students from more than 70 schools attended the IT Challenge Award Prize Presentation Ceremony in late May.

The event, organised by the Hong Kong Association for Computer Education...

Cyberport first time to co-organise ACM-HK Collegiate Programming Contest

Organised by the Hong Kong Chapter of Association for Computing Machinery (ACM), the ACM-HK Collegiate Programming Contest attracts the best computer science and engineering minds from Hong Kong and Macau. Now in its 26th year, the event will be held...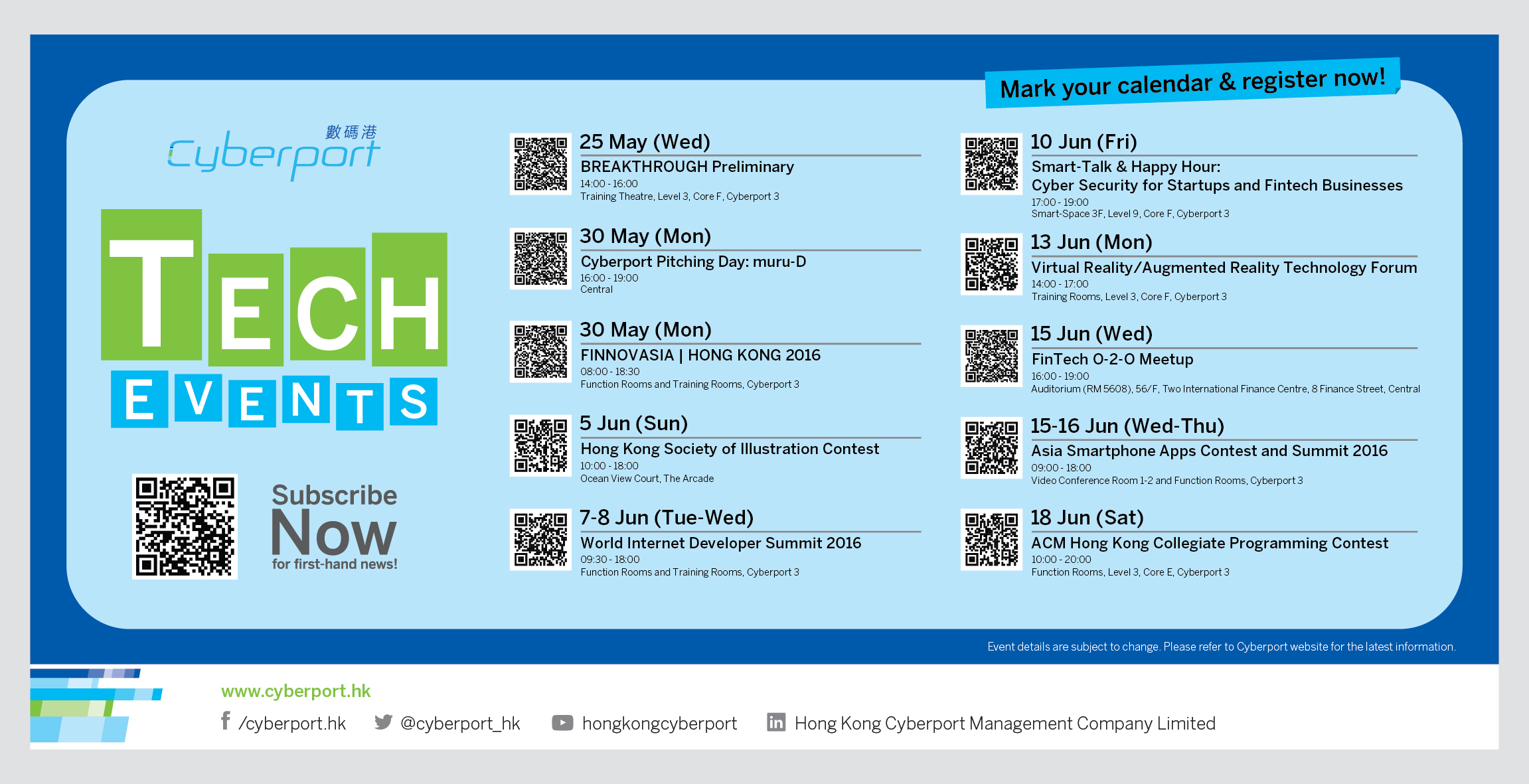 If you do not wish to receive our monthly eNewsletter "CyberLink" in the future,
please reply to this message or click here to unsubscribe.

如閣下不想再收到數碼港的月訊「CyberLink」,請回覆此電郵或按這裡取消訂閱。

Hong Kong Cyberport Management Company Ltd
Units 1102-1104, Level 11, Cyberport 2, 100 Cyberport Road, Hong Kong
Tel: (852) 3166 3800 Fax: (852) 3166 3118 Email: enquiry@cyberport.hk

香港數碼港管理有限公司
香港數碼港道100號數碼港二座11樓1102-1104室
電話: (852) 3166 3800 傳真: (852) 3166 3118 電郵: enquiry@cyberport.hk