If you cannot read this email, please click here

Cyberport leads delegation to International Soft China tradeshow in Beijing

Cyberport CEO, Herman Lam, led a delegation of nine companies to Beijing in late May to attend the International Soft China 2016 tradeshow.

The delegates including incubatees CWB Tech, Happy Retired and Skytree Digital; incubatee alumni Legato, Trinity and QWeUs as well as Smart Space Companies Certizen Limited, Foxglobal Technologies...
Minecraft education symposium takes Cyberport by storm this summer

Minecraft - the cuboid construction game that has become a worldwide phenomenon will take Cyberport by storm this summer as the digital hub will host a two-day Minecraft Education Symposium aimed at better understanding how Minecraft can be used in education.

Panel discussions with global experts on the first day will focus on the role of Minecraft in education...
Cyberport Fengguo Network raises $2.8 million for signature product

Cyberport incubatee and Creative Micro Fund alumni Fengguo Network recently raised RMB 2.25 million (HK$2.8 million) from a private Mainland Chinese investor to fund the development and marketing of "Lolita," its signature product in Mainland China.

Aimed at early education institutes, Lolita – a leading membership management solution offers a user-friendly online platform that facilitates membership recruitment and courses scheduling, records and tracks...
Incubatee Gaifong launches new in-app services and damage coverage scheme

Founded in 2014, Gaifong offers a groundbreaking concept as a location-based, peer-to-peer platform for users to post items for neighbors to rent. Members can also submit "wishes" for items not readily available in their immediate community. The platform will then send out notifications to nearby users with around 80 percent...

Smart-Space company 2Easy takes the stress out of hiring professionals

2Easy has launched an innovative platform designed to help clients hire professionals in Hong Kong in a cost-efficient, faster and easier way.
The 2Easy platform allows clients to sort and find the right professionals based on their requirements. 2Easy, through bespoke questionnaires, also taps into clients' requirements and...

Cyberport's clean indoor air quality reinforces environmental goals

Cyberport was awarded, in early June, the Excellent Class Certificate of Indoor Air Quality at six of its locations.
The awarded premises are Cyberport 1, 2, 3, 4 and The Arcade. The certificate shows Cyberport complied fully with the Excellent Class Indoor Air Quality objectives 2015, and a special commendation was also received in recognition of Cyberport's continuous commitment to the IAQ scheme...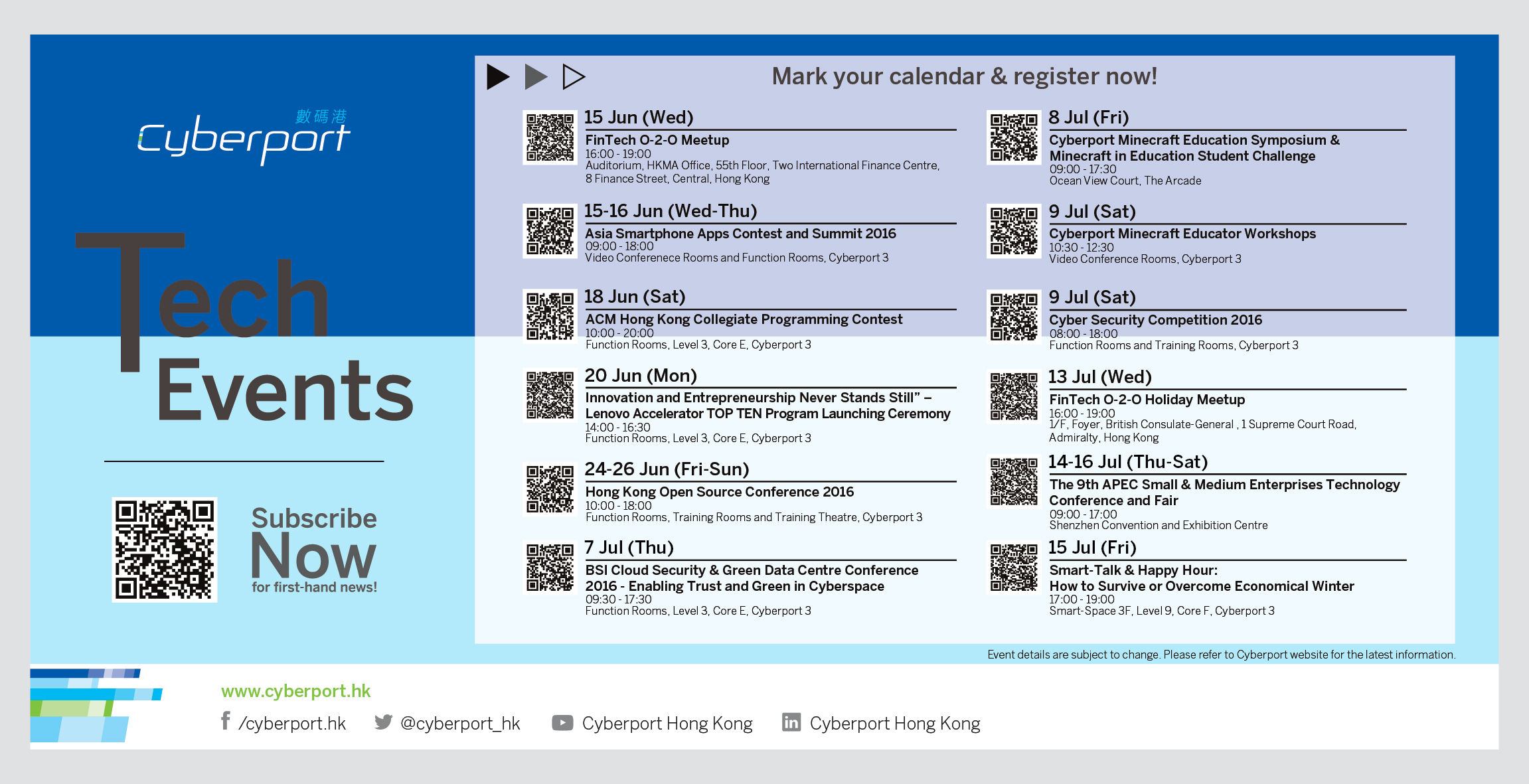 If you do not wish to receive our monthly eNewsletter "CyberLink" in the future,
please reply to this message or click here to unsubscribe.

如閣下不想再收到數碼港的月訊「CyberLink」,請回覆此電郵或按這裡取消訂閱。

Hong Kong Cyberport Management Company Ltd
Units 1102-1104, Level 11, Cyberport 2, 100 Cyberport Road, Hong Kong
Tel: (852) 3166 3800 Fax: (852) 3166 3118 Email: enquiry@cyberport.hk

香港數碼港管理有限公司
香港數碼港道100號數碼港二座11樓1102-1104室
電話: (852) 3166 3800 傳真: (852) 3166 3118 電郵: enquiry@cyberport.hk