Cyberport partners to host conference on innovative disruptive technologies and Hong Kong's first GMIC start-up competition

Cyberport is collaborating with renowned industry leaders to bring you "The Future of Innovation," a conference on disruptive technologies on 7 October this year.
The much anticipated event will focus on the successful adoption of cutting edge technologies in the development of futuristic innovations...
Cyberport delegates consolidate China insights with Shanghai visit

Cyberport CEO Herman Lam led a delegation of over 30 including Cyberport Creative Micro Fund grantees, Cyberport incubatees, alumni and Smart-Space companies to the TechCrunch and MWC Shanghai exhibitions at the end of June.
Fintech companies Polidigi and Yintran Pay became two of the four Cyberport nominated companies selected for the MasterCard Techtrek at TechCrunch. There was also an informative sharing session at the event...
Cyberport collaborates to launch Lenovo's first accelerator

Cyberport has partnered with Lenovo to launch the first Lenovo Accelerator Programme marking the occasion with the "Innovation and Entrepreneurship Never Stands Still" ceremony which attracted over 130 participants on June 20.
The accelerator programme, targeting start-ups in Hong Kong and Southern China, will offer funding, infrastructure and business support for entrepreneurs specialising in game-changing technologies including robotics...
Incubatee AcesoBee launches first personal care plan solution in Asia

Cyberport incubatee AcesoBee has taken the city a step closer towards realising its goal of building an electronic healthcare record platform to simplify and facilitate the management of personal healthcare and nursing information among patients, healthcare service providers and insurance companies...

Cyberport incubatee BondIT Asia's concept is being recognised by regional accelerator programme

Cyberport incubatee BondIT Asia was among one of eight companies admitted on to the 12 week OCBC Fintech Accelerator programme in Singapore in May. Powered by NEST, the mentor...

Cyberport's greenness proven with commitment to Energy Saving Charter

Cyberport, in June, signed up to the city's Energy Saving Charter 2016, a community-wide sector specific campaign to save energy.

In support of the scheme, Cyberport pledged to maintain average indoor...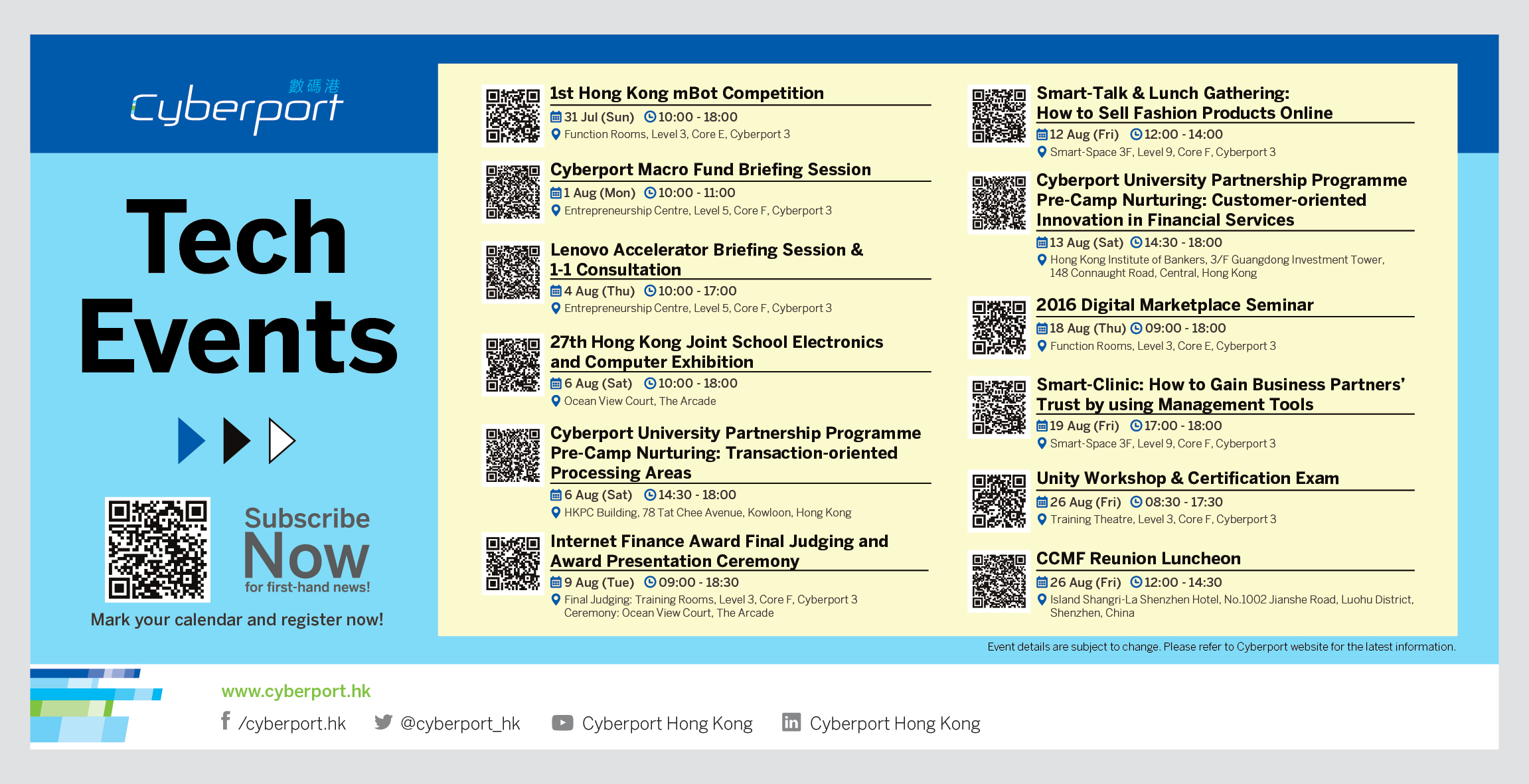 If you do not wish to receive our monthly eNewsletter "CyberLink" in the future,
please reply to this message or click here to unsubscribe.

如閣下不想再收到數碼港的月訊「CyberLink」,請回覆此電郵或按這裡取消訂閱。

Hong Kong Cyberport Management Company Ltd
Units 1102-1104, Level 11, Cyberport 2, 100 Cyberport Road, Hong Kong
Tel: (852) 3166 3800 Fax: (852) 3166 3118 Email: enquiry@cyberport.hk

香港數碼港管理有限公司
香港數碼港道100號數碼港二座11樓1102-1104室
電話: (852) 3166 3800 傳真: (852) 3166 3118 電郵: enquiry@cyberport.hk