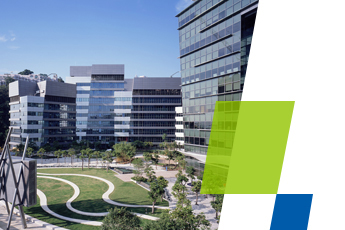 Counting down to the Internet Economy Summit (IES) 2019, Asia's annual tech flagship event for innovation and collaboration, which will be staged at the Hong Kong Convention and Exhibition Centre on 15-16 April.
This year's theme "Digital Economy • Redefines Our Future" will draw deep insights into the latest and hottest topics of how today's businesses leverage data-driven innovations to harness the unprecedented opportunities in the...
Cyberport's FinTech start-ups have done it again! At the FinTech Awards 2018, 14 Cyberport FinTech companies and start-ups outperformed a bevy of highly competitive contenders and bagged 14 awards across nine categories, including insurance, consumer payments initiative, wealth investment and management, lending, FX/payment solutions, artificial intelligence, blockchain solutions, cybersecurity/anti-fraud, and "universities"...
Cyberport and InnoSpace (Thailand), a public-private joint venture set up to support Thailand's start-ups, signed a memorandum of understanding (MoU) in Bangkok in late February to strengthen reciprocal support for start-ups.
Under the MoU, the two organisations will develop a collaborative framework...
The Cyberport Macro Fund (CMF) is pleased to announce that DocDoc, Asia's leading patient empowerment company, headquartered in Singapore, has become the fund's 8th investee. DocDoc combines an AI-powered doctor discovery platform with exceptional customer service to effectively connect patients to high quality specialised care based on each patient's unique...
Blockchain technology has been gaining prominence in tech innovation across the world, while its applications in FinTech have been progressing rapidly. As Hong Kong's largest FinTech community, Cyberport has been cultivating and nurturing Hong Kong's blockchain cluster.
Cyberport is always working with different industry players to organise blockchain workshops, bootcamps, and other practical training to cultivate...
If you do not wish to receive our monthly eNewsletter "CyberLink" in the future,
please click here to unsubscribe.

如閣下不想再收到數碼港的月訊「CyberLink」,請按這裡取消訂閱。

Hong Kong Cyberport Management Company Ltd
Units 1102-1104, Level 11, Cyberport 2, 100 Cyberport Road, Hong Kong
Tel: (852) 3166 3800 Fax: (852) 3166 3118 Email: enquiry@cyberport.hk

香港數碼港管理有限公司
香港數碼港道100號數碼港二座11樓1102-1104室
電話: (852) 3166 3800 傳真: (852) 3166 3118 電郵: enquiry@cyberport.hk