If you cannot view the content , please click here.
Cyberport Venture Capital Forum 2023 ventures forward with innovation
The annual Cyberport Venture Capital Forum (CVCF) 2023 was back with a bang! Over 2,500 participants took part in the two-day hybrid forum, which accumulated more than 120,000 page views and facilitated over 300 fundraising meetings.
A Wealth of Wisdom and Opportunity
Driven by the theme "Venture Forward: Game Changing through Innovation", CVCF 2023 united over 80 visionary venture experts, entrepreneurial pioneers, and influential thinkers from around the globe to impart insight and identify opportunities.
Attendees were treated to a wealth of wisdom on a broad range of topics, from venture capital prospects and strategies to exciting emergent trends like Web3 and AI. The forum also looked at the latest initiatives of the HKSAR Government; investment opportunities and challenges on Mainland China; the Greater Bay Area's pivotal role in sustaining Hong Kong's leadership as a fundraising and expansion gateway; and the interest of Middle Eastern and Asian investors in frontier technologies, smart industries, and technologies for social good.
Given the global economic momentum's eastward shift, CVCF 2023 also focussed on fostering regional collaboration, particularly among the Middle East, ASEAN, and the GBA.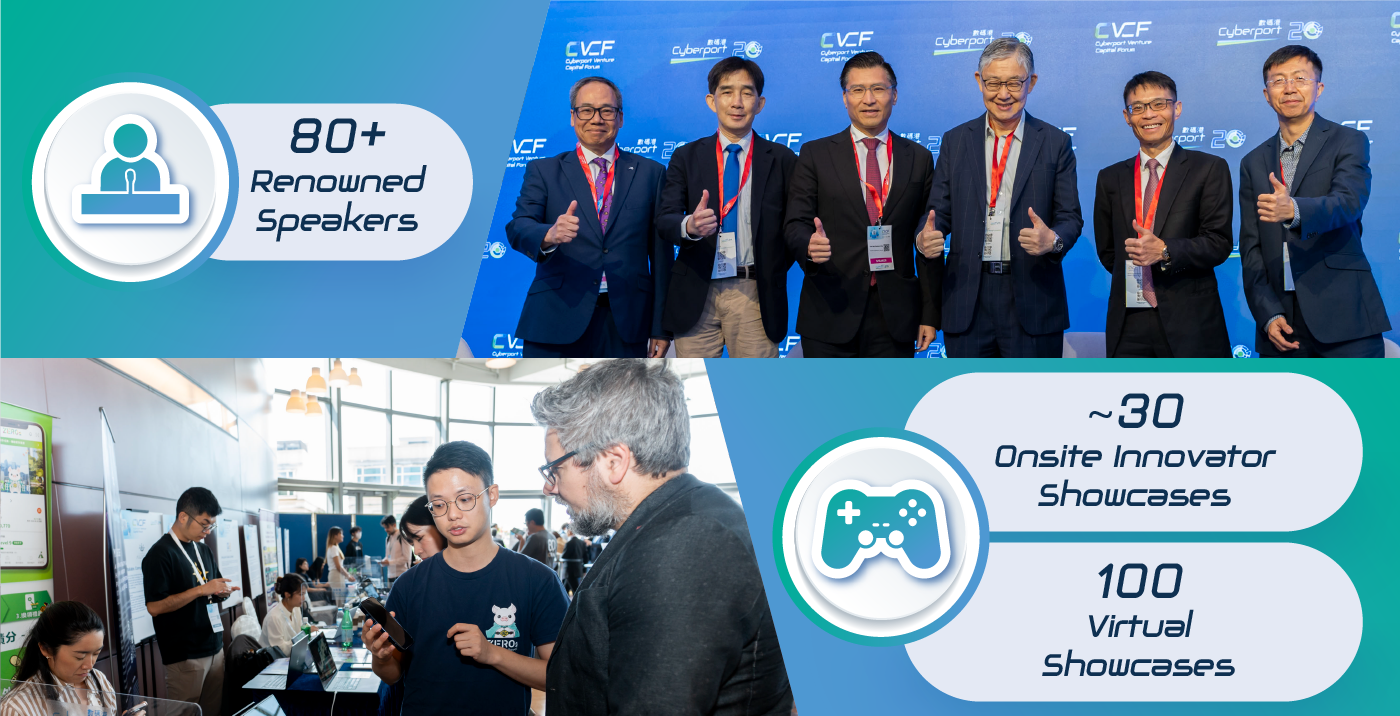 Exciting Developments and Resilient Fundraising Performance
In his opening remarks, Professor Sun Dong, Secretary for Innovation, Technology and Industry of the HKSAR Government, recognised Cyberport's efforts in fostering a thriving I&T community: "A few weeks ago, we were honoured to receive the delegation of the Chinese Ministry of Science and Technology as they recognised Cyberport's role as a State-level Scientific and Technological Incubator since 2020. This is a recognition of Cyberport's exceptional efforts and remarkable achievements in providing incubation and support services to Hong Kong start-ups. As we move forward, I&T development, start-up incubation, financing, and long-term growth must function in unison for the whole entrepreneurship ecosystem to flourish."
Following Professor Sun, Cyberport Chairman Simon Chan shared a rundown of exciting developments and uplifting news. Despite the market volatility of global venture capital, the Cyberport community demonstrated resilient fundraising performance throughout the past year, raising over HK$3 billion (US$380 million) between October 2022 and September 2023. This brought the total amount amassed by Cyberport community start-ups to HK$37.5 billion (~US$4.7 billion). Notably, blockchain start-up CertiK claimed its spot as Cyberport's seventh unicorn.
Mr Chan reported that the Cyberport Macro Fund (CMF) enjoyed a fruitful year, injecting capital into the HealthTech company Gense Technologies and smart logistics firm alfred24. To date, CMF has invested in 27 start-up projects; together with co-investments, CMF's total investment topped HK$1.76 billion (US$226.1 million) and demonstrated an impressive co-investment ratio of 1:9.

Commemorating Six Remarkable Years of CIN
CVCF 2023 celebrated the sixth anniversary of the Cyberport Investors Network (CIN). According to Hendrick Sin, Chairperson of the CIN Steering Group and CMF Investment Committee, the network continued a robust growth trajectory. Between October 2022 and September 2023, CIN facilitated investments in excess of HK$340 million (US$43.4 million). Since its inception, the network has injected over HK$2 billion (US$255 million) into 75 projects.
CIN's membership expansion also continued to thrive over the past year, with the network welcoming more than 20 new entities. The 170-member group now includes venture capital funds, accelerators, angel funds, family offices, corporate venture capital, banks, and private equities from Hong Kong, Mainland China, Southeast Asia, the Asia-Pacific region, Europe, and the Americas.
"Despite the turbulence of the capital market, 'smart money' remains firmly in place. CIN has served as a compass helping both start-ups and investors capture emerging opportunities," Mr Sin remarked. "As the HKSAR Government continues to strengthen regional cooperation with ASEAN and the Middle East, CIN and CMF will collaborate synergistically to encourage investment, bolster business opportunities, and amplify the impact of Hong Kong's start-ups."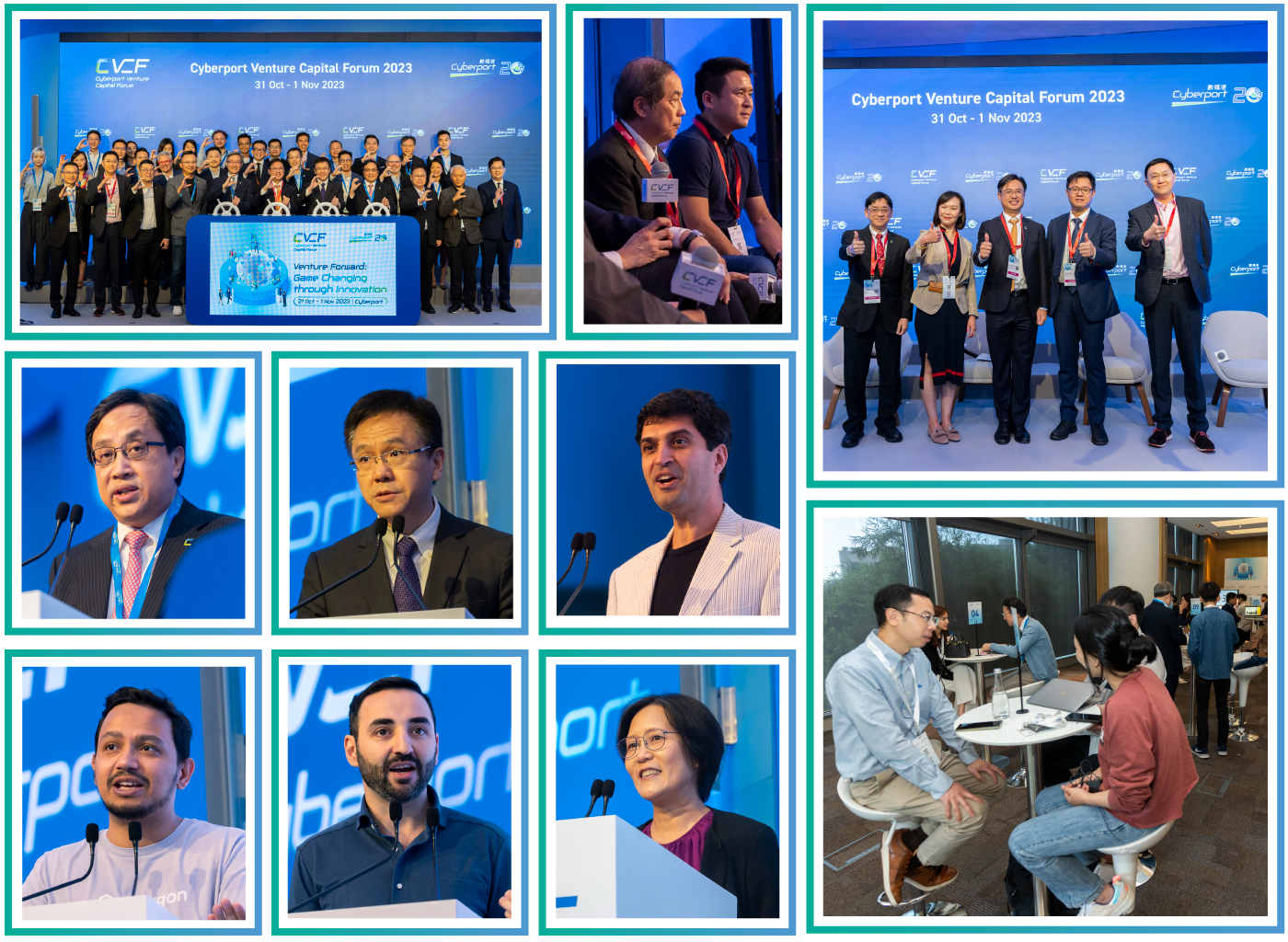 Renowned Speakers Delve into Hottest Venture Insights
A stellar line-up of heavyweight global venture capitalists and industry leaders shared their latest perspectives on the hot venture markets and geo-political dynamics, government's initiatives especially new measures from the Policy Address, family office in sustainable investments, IPOs and more. It was also the first time since 2019 that CVCF welcomed the physical presence of international speakers for closer exchange and networking. Some of the top-notch speakers included Alireza Masrour, General Partner of Plug & Play; Sandeep Nailwal, Co-Founder of Polygon; Medea Nocentini, Senior Partner of Global Ventures; Philip Yung, Director-General of Office for Attracting Strategic Enterprises (OASES), Shih Wing Ching, Chairman of Centaline Group; Wai Lum-Kwok, Senior Executive Director, Authorisation & FinTech, Financial Services Regulatory Authority, Abu Dhabi Global Market; Lo Poman, Founding Partner, AlphaTrio Capital; Gökhan Er, Managing Director of IOSG Ventures; Sonia Weymuller, Co-Founder and General Partner of VentureSouq; Melissa Foo, Head of Sunway iLabs Ventures, along with a handful of elite Cyberport start-ups like HKVAX, Real Corporation, RD Technologies, DigiFT and more.

Shining a Spotlight on Web3
With the rapid development of Web3, CVCF 2023 collaborated with ForesightX to host a Web3 Demo Day themed "Alpha Alchemy," featuring 11 Web3 project owners from Hong Kong and other part of Asia presenting their ideas to renowned investors. The three outstanding projects were chosen for a fast-track interview with the Cyberport Incubation Programme and had a chance to receive up to HK$700,000 in subsidies, office space and other in-kind support to aid their growth and expand their international presence.
Additionally, a series of Web3 Spotlight Events was presented in the week following CVCF to further highlight the transformative possibilities of this technology. Events included the Future of Web3, Ahoy!, the Web3 Scholars Conference, and the HK Web3 Month Conference.
Start-up Workshops and GreenTech and Sustainability Venture Day
The second day of CVCF 2023 was devoted to Start-up Workshops and the inaugural GreenTech and Sustainability Venture Day, a centrepiece of International GreenTech Week. The conference, held in collaboration with Friends of the Earth (HK), the Hong Kong Green Finance Association, MIT Hong Kong Innovation Node, and GIS Academy, brought together over 20 eco-conscious community members, investors, entrepreneurs, start-ups, academics, and related enterprises to explore GreenTech investment opportunities.
Thanks all participants and partners for the unparallel support to this annual flagship event! Check out more event photos HERE and see you all next year!
| | | |
| --- | --- | --- |
| Cyberport Venture Capital Forum 2023 ventures forward with innovation | The Cyberport community bagged 27 awards at the Hong Kong ICT Awards 2023 | Cyberport collaborates with major institutions to spur Web3 popularisation at FinTech Week |
| | | |
| --- | --- | --- |
| Cyberport to establish an AI supercomputing centre | Incubatees PropCap and EVIDENT signed MoU to tokenise green mortgages | RODS raised HK$6.5 million in Pre-A funding |
| | | |
| --- | --- | --- |
| Butler Asia signed MoU with Jones Lang LaSalle to integrate PropTech SaaS across portfolio | Applicants sought for Cyberport Greater Bay Area Young Entrepreneurship Programme 2023 | Call for applications: GBA FinTech two-way internships for post-secondary students |
| | | |
| --- | --- | --- |
| ArtWise brings Web3 to art ownership and trading | | |
If you do not wish to receive our monthly eNewsletter "CyberLink" in the future, please click here to unsubscribe.
如閣下不想再收到數碼港的月訊「CyberLink」,請按這裡取消訂閱。
Hong Kong Cyberport Management Company Ltd
香港數碼港管理有限公司
Level 6, Cyberport 2, 100 Cyberport Road, Hong Kong
香港數碼港道100號數碼港二座6樓
Tel 電話:: (852) 3166 3800 Fax 傳真: (852) 3166 3118 Email 電郵: enquiry@cyberport.hk
Disclaimer:
The information transmitted is intended only for the addressee(s) and may contain confidential and/or privileged materials. If you are not the intended recipient, you should not read, use or disseminate or otherwise divulge such information. If you have received this in error, please immediately notify the sender and delete this email from your system.